Hips - Good

Elbows - Normal

Cardiac - Normal

Patellas - Normal

prcd-PRA - Carrier

G1-PRA - Clear

IC - Carrier

vWd - Clear

CERF - 8/2013

Color: Apricot and carries for Parti

Tucker is the son of Finnegan and just an all around perfect Goldendoodle weighing approximately 32 pounds.  Tucker was born in Montana but came home to join us here at Suwanee Goldendoodles and is available as a stud with prearranged appointments.  We went after a girl and came home with a boy and I'm certain you can see why.  Tucker is fully tested and sired his first batch of six puppies with Scout.  He has a very sincere disposition and loves to please just like his Dad Finnegan (shown below).

PLEASE NOTE:  Our studs are available for approved breedings only.  You must be able to provide a pedigree, proof of testing for all the tests we do here and a Brucellosis before we will allow our dogs to be used outside our program.

Be sure to join us on Facebook for additional updates, information and fun photos from our litters.

Our health guarantee and proof of testing sets us apart from the rest.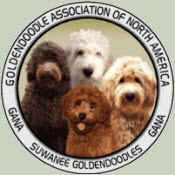 Finnegan was a wonderful mini stud we used for a few years.  He is a sweet-natured boy that loves life, the girls and life right here at home with us.  Finnegan produced Tucker (an F1B) that will carry on breeding opportunities as needed for us.

Montana's Red Tucker - F1B

"ASD's Jack of All Trades" JACKSON - Klein/Moyen Poodle

Jackson is the "Perfect" Poodle that looks like an F1B Goldendoodle.  Pictured here with his young owner, he is 28lbs of pure love. 

Hips - Good

Elbows - Normal

Cardiac - Normal

Patellas - Normal

Calves and Pertes - Normal

prcd-PRA - Clear

vWd - Clear

CERF - 4/2014

Jackson comes from a fine line of European Klines and he will make some beautiful puppies with several breeds because of his size.

Stallone's Harley "Rocky" - English Multigen

Hips - Good

Elbows - Normal

Cardiac - Normal

Patellas - Normal

prcd-PRA - Clear

G1-PRA - Clear

vWd - Clear

IC - Clear

CERF - 4/2014

Rocky is the son of Scarlett and Duke and is 1/2 English and 1/2 American Goldendoodle.  He weighs 41 pounds and has the most incredible long flowing, non-shedding coat.  He also has a great temperament and is very loving.  Rocky is available to approved Breeders only showing proof of all testing required within my guidelines of Goldendoodle breeding.  All approved litters from Rocky will be posted here.